Nice hair lives here.
Network. Inspiration. Community. Education.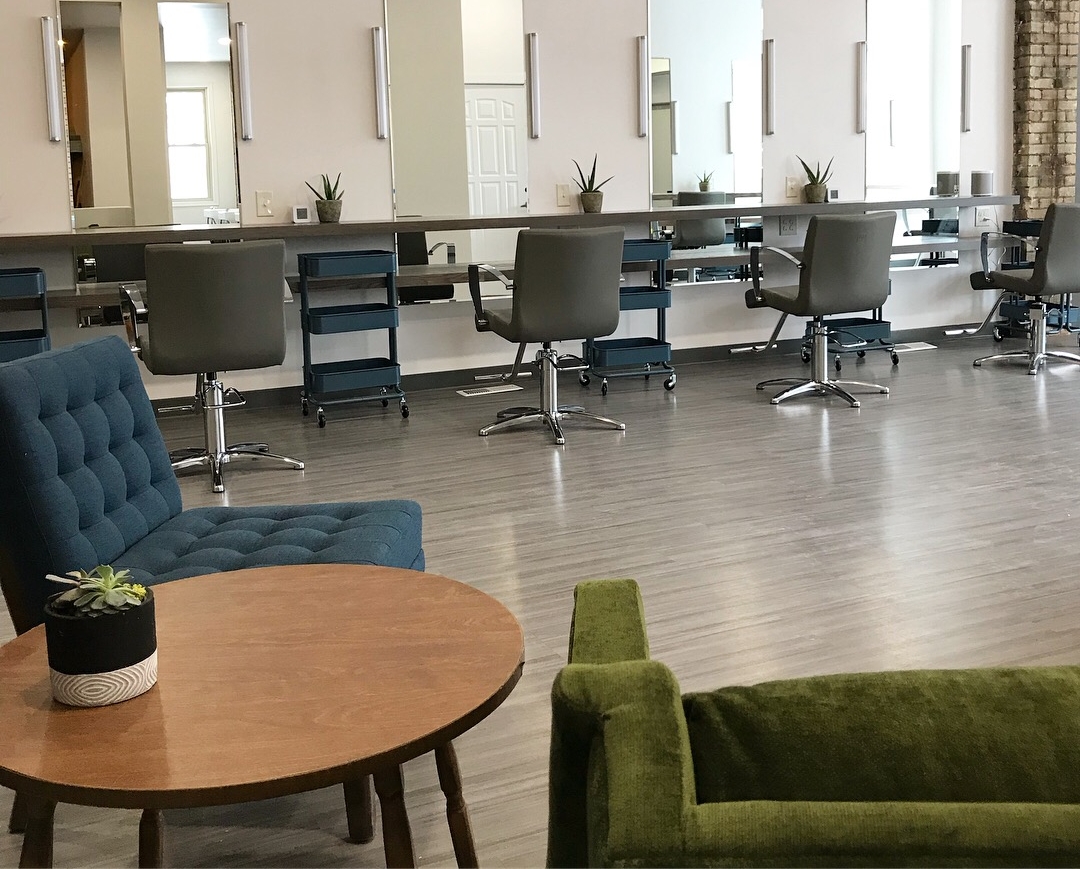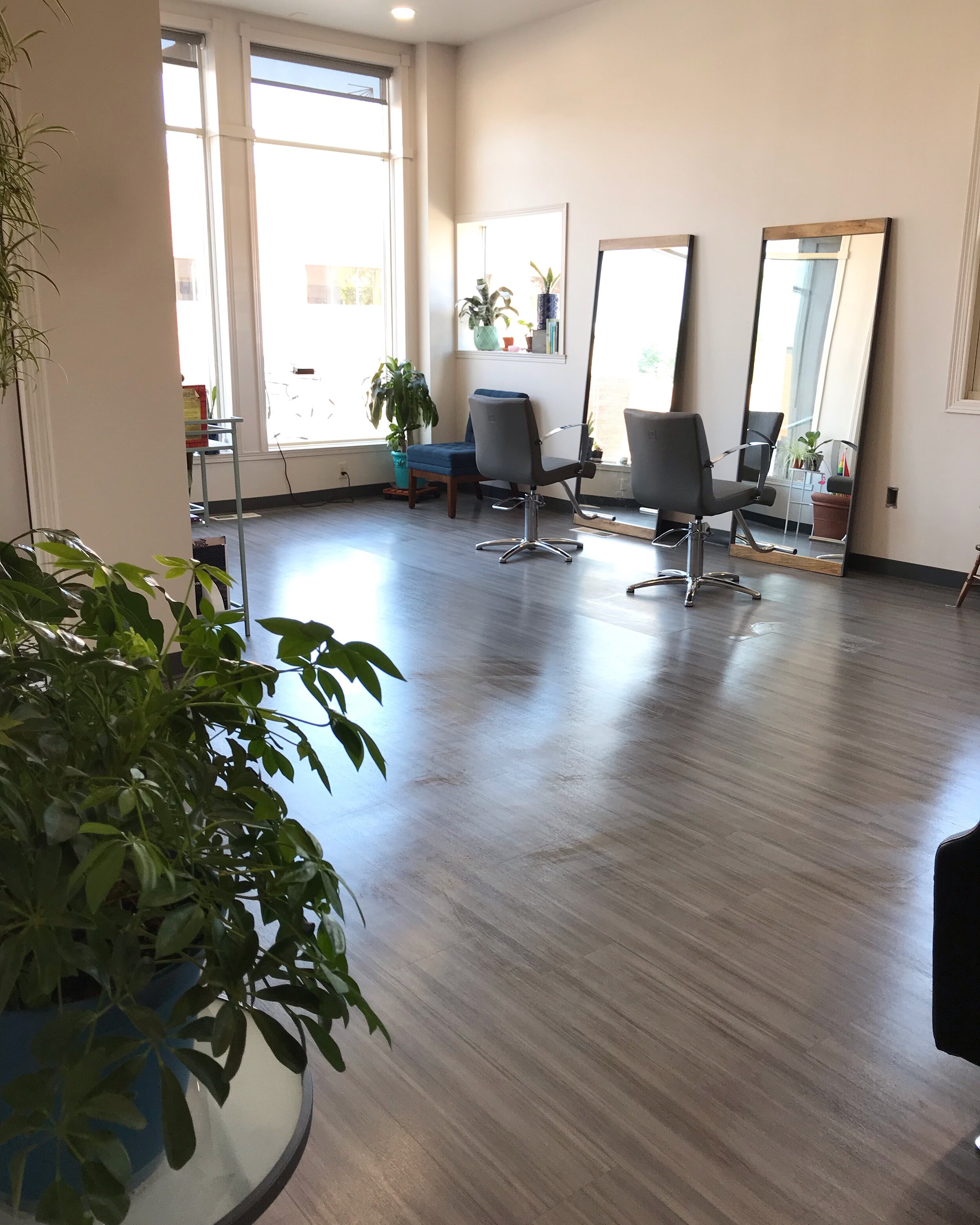 Everyone deserves Nice Hair. Nice Hair is inclusive, not exclusive.
Nice Hair has a home. This means you have a home- the home of a trusted friend. Let our home welcome you with open arms and help you feel more like yourself. Nice Hair is not exclusive, it is inclusive, meaning you include us in your journey.
Nice Hair's journey began as a gathering of local hairdressers, with the goal of sharing our craft, knowledge, and inspiration with one another. Our intention has always been to support and grow each individual hairdresser in our community, because when one grows, we all grow. We have a commitment to expanding our knowledge and skill in an approachable way. We find friendliness and kindness to be our greatest teachers.
Please join us!
If you might like to treat yourself to Nice Hair, Salon Services are listed below. Online Booking Appointment request link right here.
Learn about our committment to Sustainability or brush up on our New Salon Policies!
Looking for the perfect gift? Give the gift of Nice Hair instantly with an Egift Card.
Phone & Email
(414) 522-0236
nicehairmke@gmail.com
Location
920 S Second St.
Milwaukee, WI 53204
 
Hours
Sunday- closed
Monday- Education events
Tues- 9am- 8pm
Wed- 9am-8pm
Thurs- 9am-8pm
Fri- 9am-5pm
Sat- 9am- 4pm
Salon Services
We are a hair salon! While we enjoy all aspects of hair, not all team members perform every single service. We support their choice to specialize in the services they find most passion in. We hope that you will appreciate their time, skill, and specialties as much as us!
Hourly Pricing
Services range from $40-100 per Hour
Our goal is to keep it simple.
30 minute Consultation:
Complimentary, one on one time with a pro to talk about ideas, options, goals, and pricing. Bring photos that you like and ones you dislike! We have your best interests in mind.
Haircut:
All haircuts include a wash and style, depending on your hair's needs.
Plan an hour into your time and budget
Higher priced stylists have more years in the industry, more education, and specialize in certain techniques.
Haircuts with Kate automatically support a participant in The Highlight Project!
New Client Haircolor:
We kindly ask all New Haircolor clients to book a consultation. Color quotes are very personal. There are many techniques and artistic talents that go into every color. Root retouches are a whole different animal than corrective-blonde-balayage services. Don't worry about what to ask for, just ask for color and let us worry about the techniques. Please contact us for a more in depth Consultation, and time/price specific to your hair, budget, and desires!
Returning Client Haircolor:
Welcome back! Your hairdresser will have a plan for you and we can book accordingly.
Treatment Upgrades
$25- Repair and Condition
$45- Olaplex Color Treatment
$150- Keratin Express Blowout Treatment
Wash and Blowout:
Let someone else hug your brain for a minute....one less thing for you to do!
Extensions:
This will require an in-person consultation.
Facial Waxing:
Yes!
Special Occasion Hair:
We love sharing in special occasions! This might be a wash, dry, and curls. It also might mean a braid or upstyle. If you are planning a wedding, Congratulations! Wedding planning is more detailed and you should have a helpful person focused on your needs.
Email krystle.nicehair@gmail.com for Wedding consultations.
****Request an Appointment
via phone or text: 414-522-0236
via email: nicehairmke@gmail.com
via Online Booking request link
It is our responsibility to be forward thinking regarding the waste we create, how we dispose of it, and what companies we partner with.
The Beauty Industry alone creates over 420,000 pounds of landfill waste per DAY! Not Nice.
Green Circle Salons has allowed us to reduce a significant amount of our landfill waste. 85-95% of our typical landfill waste is diverted because of our partnership. Your extra haircolor, foils used, and even your hair is repurposed!
An Eco-Sustainability fee of $1-2 is added onto all haircut and color services. We ask this so that you can proudly share in the repurposing of your own waste. How beautiful is that? Without you and your contribution, imagine how many bags of landfill trash we would accumulate?
We proudly carry product brands that are all Cruelty-Free, Eco-Conscious, and are high performing.
A Beauty Program for Female Youth
How do we define beauty?
Let's be honest. We all struggle with our own ideas of what beauty means. As beauty professionals, we honor that beauty comes from within. The trust that can be formed between a client and a hairstylist can create magical transformations, both on the outside and the inside.
The Highlight Project is meant to help create new definitions of beauty, self-esteem, confidence and mentorship for female youth in our community. Navigating growing up, while also navigating ideas of Self- Esteem, Confidence, Relationships, Awkwardness, Friendships, Change, Expectations…..it can be a puzzle for even the most skilled adult.
Participants in The Highlight Project will receive Complimentary hair services every 4-6 weeks.
Want to sponsor a Service??
Send any amount via PayPal to nicehairmke@gmail.com
or
Add on a Highlight Project service gift to your next service! $30 covers a full youth service
or
Schedule a Haircut with Kate! Sponsorships will be built into her service cost. It's like a buy one get one sort of gig!
Want to be involved??
Parent/Guardians/Teachers/Collaborators: email us at nicehair.highlightproject@gmail.com to inquire!
Hairdresser Education
All Education events will take place on Mondays, unless otherwise noted.
September 16 - 10am-12pm
Domestic Violence Awareness Seminar for Beauty Professionals
RSVP by 9/12 to krystle.nicehair@gmail.com
September 30 - Razorcutting w/ Kate Kent
Demo only - 9am-11am $75 | Demo plus Hands-on - 9am-2pm $200
RSVP by 9/22 to krystle.nicehair@gmail.com
Open Studio
We find that sometimes working around other creative professionals is more valuable than a formal class. Hang out with other Hair nerds, have a drink, and do cool hair.
$20 cover charge at the door.
Additional fees for backbar/color costs can be quoted during studio date.
Oct 14- 4-8m
Nov 11- 4-8pm
Salon Policies
Your appointment is very important to us at Nice Hair. It is reserved especially for you! All the hair that we do is completely customized and personal to each client. Our Policies protect our stylists' time and also allows us to alert our standby clients of any surprise openings. We always understand when unforseen circumstances arise. We sincerely appreciate your respect for both your stylists and your fellow clients! Thank you!
*We respectfully ask that all appointment changes be made within 48 hours.
*Last-minute Cancellations or Changes, and No-Shows will be asked to Prepay (100% deposit) for their next service to secure their desired time.
*All New Haircolor clients are asked to schedule a New Client Color Consultation to determine service, time, and price.
*Services requiring 3 hours or more will be asked to pay a Non-Refundable $100 Deposit, to be used towards final service. This protects your time and the time of your stylist. 48 hour cancellation/reschedule/no-show policy still applies. Your deposit will be forfeited if changes are made within the 48 hour policy range.
*Product Return- Products with 2/3 product remaining can be returned within 30 days from purchase for In-Store Credit.

"Give the ones you love wings to fly, roots to come back, and reasons to stay."
-the Dalai Lama
Visit Us Soon!
Nice Hair
920 S 2nd St. Milwaukee, WI 53204
Salon appointments by phone, online request, email or in person.
nicehairmke@gmail.com
ph: (414) 522-0236
until then....Follow our journey on Instagram!! @nicehairmke_salon